DOUBLE CLEANSE THE SKIN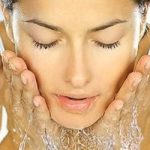 Door of Youth Foaming Cleanser has AHAs (Alpha Hydroxy Acid)  L-lactic acid, part of AHAs family, as well as removing the days' grime and makeup is actually healing the top layers of your skin plus initiating a lot of cellular action deeper down.
DOY Foaming Cleanser – Key Ingredients: Vitamin A to renew, Vitamin B5 to condition, Vitamin C to promote collagen and brighten, Vitamin E to protect, Heptapeptide 8 to retexturize and Certified Organic avocado oil to nourish the skin.
So what can it do for you?
Gently cleans and exfoliates the skin – creates a radiant skin
Heals the epidermis and rebuilds cell walls – hydrates and slows cell water loss
Is antibacterial especially targets p.acne – all types of acne
Suppresses tyrosinase formation – manages pigmentation
Promotes skin renewal and collagen production – ageing skin
This is the one must have ingredient in your skin care if you are concerned about:
Dull lifeless skin in need of exfoliation
Epidermal hyperpigmentation – brown or red spots
Congested skin – feels lumpy and dirty
Dehydrated skin – feels rough and dry
Mild to moderate acne
Photoageing – lines and wrinkles
Pseudofolliculitis/ ingrown hairs – uncomfortable
The science:
Lactic acid belongs to a family of acids called alpha hydroxy acids (AHAs). Produced naturally within our bodies and also derived from milk products, lactic acid is synthetically produced for skincare purposes. Depending on the strength, pH and bioavailability of the lactic acid, it can be used daily as a gentle exfoliant, moisturising agent or as an in clinic peel treatment.
Here is video from Debbie Majella sharing her secret  Double Cleanse the Skin 
Shop on your seat not your feet and buy online today, FREE shipping orders over $50.00
Ciao for now & stay youthful,
Debbie Majella